Newsletter Archive Online

The San Francisco Tesla Society
Presents a free lecture and demonstration
by Chuck Wallach
The PAP Ion Magnetic Inductor -
A Promising New Wellness Electronics Technology
Sunday, October 13, 2002 1:00 p.m.
at 3220 Sacramento Street (near Lyon)
San Francisco, California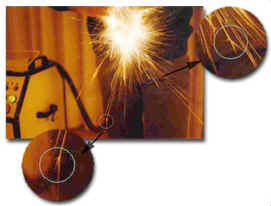 See www.bioenergyservices.com and www.papimi.gr for details about this device.

You can watch a raw unedited demo of the Papimi in action.

If you have a slow internet connection such as a 56 K modem, we suggest you right click here and DOWNLOAD the video before you try and play it. The download may take about 10 minutes.

DSL or Cable Modem users can simply PLAY this video.

Your computer needs Real Player to view this video.

We recommend DAP to accelerate your downloads.


For more information about the San Francisco Tesla Society, call (415) 931-2593, or visit us online at http://www.sftesla.org .