Newsletter Archive Online
The San Francisco Tesla Society
Presents a free presentation featuring
Jason Ringus
and the West Coast Premiereof a new
documentary by Shawn Montgomery
"The Rise & Fall of a Scientific Genius:
The Forgotten Story of Royal Raymond Rife"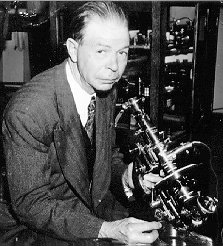 Sunday, March 13, 2005 1 - 5 p.m. at
Round Table Pizza
Banquet Room on 2nd Floor
5160 Geary Blvd. (at 16th Ave.)
San Francisco, California
Many things in nature will resonate and shatter if stimulated with the proper form of energy at the correct frequency. Dr. Royal R. Rife worked to apply this principle to the treatment of disease - especially cancer. In the 1920's he created and patented the "Rife Universal Microscope" - the worlds first microscope capable of observing the movements and metamorphosis of live microbes and viruses at 60,000 x. He used it to catalog and observe effects on various diseased microbes as he bombarded them with endless combinations of electromagnetic frequencies. He successfully identified frequencies that rupture or destroy various deadly microbes active in cancers and other diseases, and developed successful inexpensive electronic treatments. In 1934, a clinical cancer trial on humans was made with encouraging results. His work was successfully replicated by others, and yet his research was diligently suppressed by ruthless men who did not approve. Fortunately Rife's research was rediscovered in the 1980's and there is a small but growing international movement actively working to advance this extraordinary technology.
Jason Ringus is a member of the Rife Research Group of Canada. Jason will join us live via teleconference to discuss Rife research after the documentary. Copies of this documentary can be obtained from Zero Zero Two Productions.
Click here for the PDF Version of our Spring 2005 Newsletter
For more information about the San Francisco Tesla Society, call (415) 820-1451, or visit us online at http://sftesla.org .